Renew Life Worship Center
Apostle Dr. Gina Aboagye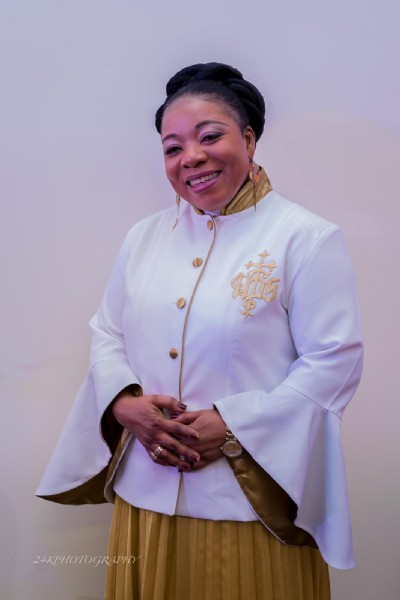 Apostle Dr. Gina Aboagye
Apostle Dr. Gina Aboagye is the Co-Pastor of Renew Life Worship Center. At 16 years of age, Apostle Gina accepted Christ at the Action Faith Ministries under Arch Bishop Nicholas Duncan -Williams and was baptized under the administration of Bishop Matthew Addea-Mensah, Founder and Presiding Bishop of Gospel Light International Church. Whiles at Gospel Light, Apostle Gina was involved in the Music ministry where the Lord used her mightily to bless and minister to His people through music.

In 1992, Apostle Gina joined the Faith and Victory Christian Center, currently known as Gateway International Christian Ministry where she immediately continued to minister in songs unto the Lord. During this time she served as a Minstrel for ten years and the Lord through her songs brought deliverance, healing, hope and encouragement to many in her church and also in the community.

In 2002, Apostle Gina was ordained into the ministry at Gateway International Christian Church (GICC) as the Sr. Associate Pastor, Where she served the Lord faithfully with diligence and dedication under the Spiritual oversight of Apostle Dr. Elvis Acheam-Pong Founder and General Overseer of Gateway International Christian Church for Seventeen years. During those years Apostle Gina had the opportunity and served in various ministries as a minstrel, Praise and Worship leader, a Bible Teacher, Young Adult ministry, Women's ministry, intercessory ministry and also served on many ministerial board meetings.
As the years passed by the GICC Church started another location in Woodbridge Virginia where she served as the Senior Associate Pastor for that location. During this time the church grew in many ways, with love being expressed amongst members on different levels. Apostle Gina served, ministered, lead, mentored, preached, and counseled God's people for three years.

Dr. Gina has a Bachelor Degree in Ministry, Master's Degree in Christian Education and Doctorate Degree in Christian Counseling.
Dr. Gina Aboagye has been called by God as a Pastor, Apostle, Teacher and a Prophetess. She is gifted by the Holy Spirit in the area of counseling. She is also the founder of the JOYFUL MOTHERS MINISTRY, an international outreach ministry that is solely focused on reaching out to women who are facing Infertility and miscarriages and believing the Lord for the Fruit of the womb.
Her desire is to equip and empower the people of God to exercise their God given ministries (Ephesians 4:11-16). She also desires to move people towards Christian maturity through worship, ministry and edification. Being saved by the Lord at a very early age, she also believes that her life and ministry is to draw many to the saving knowledge of Christ Jesus. She is a mentor, a counselor and a spiritual mother to many men and women and has impacted their lives, her mentors affectionately call her "Mama Gina".
Dr. Gina is the "Deborah" of our day, she is a woman who fears God, has faith in Jehovah, and believes that "God can do anything, anytime, anywhere, using anybody" which has always been her motto. She is an anointed Psalmist who has been gifted to minister the songs of Jehovah; An Apostle of strategic prayer, an anointed preacher and teacher of God's Word.

Dr. Gina is joyfully married to her best friend, her confidant, her encourager and her husband Bishop Bennet Aboagye for 26 years, and the couple has been blessed with a Son Evidencel Bennet Aboagye. Dr. Gina and her husband, have a desire to see people transcend the limitations of the flesh and be all that God calls them to be through their service to Him. This great woman of God truly believes that the gospel of Jesus Christ is the "Power of God for salvation to all who believe (Romans 1:16-17)." Her greatest heart desire is to see people saved, lives changed and impacted through the word of God.