Renew Life Worship Center
Bishop Bennet Aboagye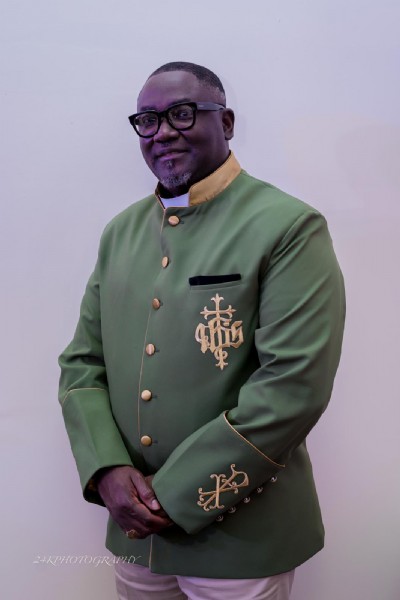 Bishop Bennet Aboagye
Bishop Bennet Adu Aboagye is the Founder and Presiding Bishop of Renew Life Worship Center located in Woodbridge, Virginia. In April 1990 he accepted Jesus Christ as his Lord and Personal Savior. He served God and was nurtured spiritually under the leadership of his spiritual Father, Bishop Matthew Addeah-Mensah Founder and Presiding Bishop of Gospel Light International Churches World-wide.
In February 1996, God led him to join Gateway International Christian Center located in Alexandria Virginia where he served with integrity, diligence and excellence for 15 years. At GICC he was a Deacon for 5 years and had the opportunity to serve God's people. For 15 years Bishop Bennet had the privileged to serve as the Head Armor Bearer under the leadership of Dr. Apostle Elvis Acheam-Pong, General Overseer of GICC world-wide.
On September 25th, 2011, he was ordained as the Sr. Pastor and General Overseer of Renew Life Worship Center and answered God's call into the Gospel ministry to oversee God's work, to lead and shepherd God's people and to proclaim the unadulterated Word of God.
Bishop Bennet Aboagye is a Spiritual Father, a Counselor and a mentor to many men and women around the globe, a man who maintains a high ethical and moral values in all his dealings, both personally and professionally. He strongly believes that genuine service to God has a reward, which he is a testament to. He is a man whose faith has been tested by God Almighty, This man of God has demonstrated a history of faithfulness and charismatic leadership by waiting patiently in faith and trusted God Almighty for Twenty-Five years just to see the promise of God fulfilled in his life, which is the birth of his son! Bishop Bennet Aboagye is truly a man of faith and the Abraham of our days.
He holds a Bachelor Degree in Christian education and a Master's Degree in Ministry, with a concentration in Christian Counseling. As a Business man, an entrepreneur and a CEO, Bishop Bennet has over 25 years of executive and leadership experience in the areas of strategic planning, business development and client relationship management.
On Sunday February 8th, He was consecrated as a Bishop by his Spiritual Father Bishop Matthew Addeah Mensah with the mandate from God to Lead, Serve, Counsel, Teach, Preach and Oversee God's work and God's people.
As a Pastor and a General Overseer who operates under an apostolic mantle, he is passionate about the Gospel, loves his congregation and strongly believes that delivering the unadulterated Word of God is the key to helping God's people live a victorious Christian life. Sr. Pastor Bennet understands and agrees that "unto whomsoever much is given, of him shall be much required" (Luke 12:48)
Bishop Bennet Aboagye is joyfully married to his high school sweetheart, best friend, sister, co-laborer in God's vineyard, his beautiful and loving wife Apostle Dr. Gina Aboagye for 26 years, and the couple has been blessed with a Son Evidencel Bennet Aboagye Jr.
Bishop Bennet and his wife, Apostle Dr. Gina Aboagye, have a desire to see people transcend the limitations of the flesh and be all that God has called them to be through their service to Him. Bishop's greatest heart desire is to see people saved, lives changed and impacted through the word of God.